Virtual Event 3-4 Dec 2020: Reuters Global Investment Summit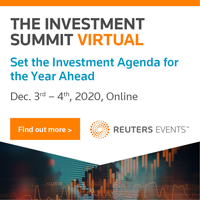 After months of economic uncertainty and volatility, we find ourselves at a crossroads.
With markets in decline and economies around the world heading towards recession, Reuters Events' Investment Summit (Dec. 3-4) unites financial institutions and investors from around the world to tackle the future of investment at this unprecedented moment.
Combining onstage inspiration with intimate peer-to-peer networking, the two-day flagship will cover four key themes:
Market Drivers and Outlook: Learn how macroeconomics, geopolitics, China and market volatility have impacted investment outlook and how you can prepare for 2021 and beyond.
Asset Management Strategies: Go beyond data and learn the methodologies employed by the most successful managers to enhance their understanding of the market and extract financial rewards. Watch out for opportunity identification techniques, industry-specific expert takes and great debates.
Leadership in a New Reality: A deep-dive into how long-term government, regulatory and investment initiatives will drive change for investors around the world.
Learning from COVID-19: Crisis has created both opportunities and risks. Are you moving fast enough? What does progress look like? Get exclusive insights from industry forerunners, leading asset owners, senior regulators and influential international players as investors look to tackle economic calamity.
As the world comes to term with the events of 2020, this 2-day strategic summit will evaluate the investment community's response to the current crisis to identify opportunities that lie ahead. We are committed to helping investors on their road to profitability and resilience
Category
Listed in: European Pension Funds Conferences, UK Pension Funds Conferences, US Pension Funds Conferences, Endowments and Foundations Conferences, Private Wealth and Family Offices Conferences, SWFs and Central Banks Conferences, Institutional Asset Managers Conferences, Insurance Companies Conferences, Manager Selection & Mandates Conferences, ESG and Ethical Investing Conferences, Stock Selection and Analysis Conferences, Asset Allocation and TAA Conferences, Derivative Instruments Conferences, Index Investing Conferences, Emerging Markets Outlook Conferences, Stocks and Sectors Outlook Conferences, Global Economic Outlook Conferences, Global Strategy Outlook Conferences, Private Equity and VC Conferences, Commercial Real Estate Conferences, Debt and Credit Outlook Conferences, Canadian Pension Funds Conferences, Asian Pension Funds Conferences, Fixed Income and Treasury Conferences, Risk and Portfolio Construction Conferences, Regulation and Compliance Conferences.