Virtual Event 25 May 2021: FT Investing for Good Europe - Unlocking The Next Wave of Opportunities in ESG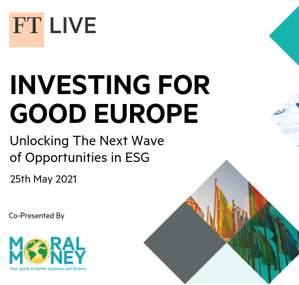 With COP26 on the horizon, Prince Charles' Terra Carta, an ambitious US administration and a rising tide behind social justice reform, this event will provide insights into the value-creating opportunities emerging from ESG integration.
Join FT Live to discuss the ongoing challenges presented by a lack of good data, the contradictory factors inherent in this lucrative market, and the extent to which words align with actions as investors, asset managers and companies come under greater scrutiny.
Navigating the world of business in an uncertain and highly volatile world is tough. Surround yourself with the information, inspiration and people who are sharing their strategies for a world transformed by crisis.
 Gain insight into how leading asset owners and asset managers are optimising the opportunities of ESG investing in this new Covid reality
Connect during and after the event via the event community, with some of the most senior institutional investors from across the UK, Europe and the world
Discover the tactics being used to cut through the ESG data jungle, to make sense of the products on the market and rinse out the greenwashing
Discount for Savvy Investor members
Category
Listed in: European Pension Funds Conferences, Investment Consultants Conferences, UK Pension Funds Conferences, Endowments and Foundations Conferences, Private Wealth and Family Offices Conferences, SWFs and Central Banks Conferences, Institutional Asset Managers Conferences, Insurance Companies Conferences, ESG and Ethical Investing Conferences, Asset Allocation and TAA Conferences, Global Economic Outlook Conferences, Global Strategy Outlook Conferences, Cleantech Investing Conferences, Risk and Portfolio Construction Conferences.