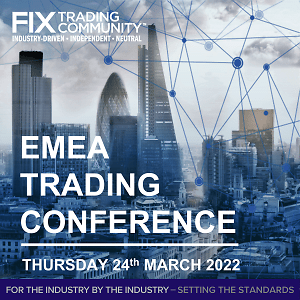 Europe's largest one-day electronic trading conference is returning in 2022. The EMEA Trading Conference brings the global trading community together to discuss the most pressing issues facing the institutional community and provides a neutral platform for buy-side, sell-side, exchanges, vendors and regulators to share their ideas on how the community can continue to collaborate. This year the EMEA Trading Conference returns as an in-person event with a multi-stream agenda, offering an interactive program that truly addresses the market's needs and facilitates immersive debate.
Designed to appeal to all asset classes, this must-attend event has been developed by the industry, for the industry, in consultation with business and technology practitioners within the Community's Member firms. All subject areas are carefully formulated, and all speakers selected are based on their depth of market knowledge and expertise.
Category
Listed in: Pension Funds Conferences, European Pension Funds Conferences, Investment Consultants Conferences, UK Pension Funds Conferences, Other Institutions Conferences, Endowments and Foundations Conferences, Private Wealth and Family Offices Conferences, SWFs and Central Banks Conferences, Institutional Asset Managers Conferences, Insurance Companies Conferences, Investment Process Conferences, ESG and Ethical Investing Conferences, Quant and Tools Conferences, Alpha Trading Strategies Conferences, Execution and Exchanges Conferences, Markets Outlook Conferences, Debt and Credit Outlook Conferences, Fixed Income and Treasury Conferences, Regulation and Compliance Conferences, Investment Technology Conferences.