Virtual Event 7-9 Dec 2021: The Global Boardroom 4th Edition - Building Sustainable Growth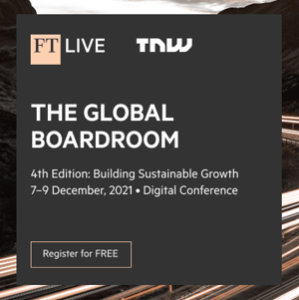 The Global Boardroom returns for its fourth edition in December to further debate the path to recovery, exploring the long-term economic, social and geopolitical consequences of the crisis and the strategies that governments, businesses and investors must undertake to assure sustainable, resilient growth.
Timed to follow COP26, the United Nations Climate Change Conference due to take place in Glasgow, the event will look closely at how net zero objectives are transforming decision-making, while also gauging the impact of new technologies on the fabric of business, markets and society.
Join #FTGlobalBoardroom and secure your digital seat today. There are a limited amount of free tickets available:
Discount for Savvy Investor members
Category
Listed in: Pension Funds Conferences, European Pension Funds Conferences, Investment Consultants Conferences, UK Pension Funds Conferences, Other Institutions Conferences, Endowments and Foundations Conferences, Private Wealth and Family Offices Conferences, SWFs and Central Banks Conferences, Institutional Asset Managers Conferences, Insurance Companies Conferences, Investment Process Conferences, ESG and Ethical Investing Conferences, Asset Allocation and TAA Conferences, Markets Outlook Conferences, Emerging Markets Outlook Conferences, Global Economic Outlook Conferences, Global Strategy Outlook Conferences, Alternative Asset Classes Conferences, Cleantech Investing Conferences, Private Equity and VC Conferences, Regulation and Compliance Conferences, Investment Technology Conferences, Commodity Markets Outlook Conferences.