Hybrid Event 9-10 Nov 2021: Global Dealmaking Summit (London & Online)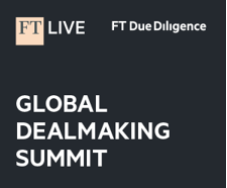 Financial Times Live, in partnership with the FT's Due Diligence newsletter, presents the second edition of its Global Dealmaking Summit, as an in-person and online gathering of leaders and influencers in M&A, private equity, corporate finance and venture capital.
Building on the success of last year's virtual event, which brought together over 2,000 delegates from 1,000 different companies, the two-day Summit will combine world class digital content with exclusive face-to-face sessions at the South Place Hotel in central London, giving unparalleled access to the conversations that will determine future strategy.
With a pathway out of the pandemic in sight, and confidence returning to the boardroom, the rebound in M&A has been remarkable, and acquisitions will undoubtedly play a critical strategic role in a company's value creation and future building. The pandemic has however triggered structural, behavioural and consumption changes, and dealmaking will inevitably change to reflect this new landscape as new challenges, trends and opportunities emerge.
The Global Dealmaking Summit will provide actionable insights and a platform for dealmakers to understand and capitalise on these changing currents and define the agenda for the road ahead.
Discount for Savvy Investor members
Category
Listed in: European Pension Funds Conferences, Investment Consultants Conferences, UK Pension Funds Conferences, Endowments and Foundations Conferences, Private Wealth and Family Offices Conferences, SWFs and Central Banks Conferences, Institutional Asset Managers Conferences, Insurance Companies Conferences, Asset Allocation and TAA Conferences, Global Economic Outlook Conferences, Global Strategy Outlook Conferences, Alternative Asset Classes Conferences, Hedge Funds Conferences, Private Equity and VC Conferences.