Virtual Event 5 Oct 2021: Responsible Asset Owners Global Symposium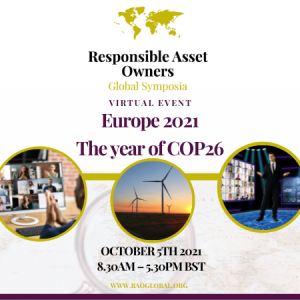 RAO Global brings together fund managers, institutional investors, investment consultants, wealth managers and expert advisors. Industry-leading keynote speakers share RI thought leadership and emerging trends on both a global and regional level.
Networking and private 1-2-1 meetings create the opportunity to build even stronger relationships with existing partners, as well as introducing new brands with something to say. Is that brand yours?
Useful links:
Discount for Savvy Investor members
Category
Listed in: Pension Funds Conferences, European Pension Funds Conferences, Investment Consultants Conferences, UK Pension Funds Conferences, Endowments and Foundations Conferences, Private Wealth and Family Offices Conferences, SWFs and Central Banks Conferences, Institutional Asset Managers Conferences, Insurance Companies Conferences, ESG and Ethical Investing Conferences, Asset Allocation and TAA Conferences, Global Strategy Outlook Conferences, Cleantech Investing Conferences, Regulation and Compliance Conferences.