AIM Summit: The leading alternative investment management summit (Dubai) 11-12 Oct 2021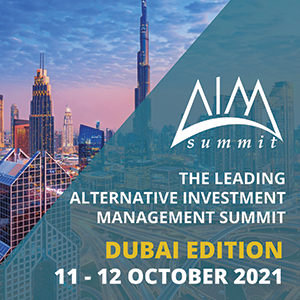 The 11th Edition of AIM Summit will be an exclusive gathering connecting global and regional industry leaders & investors discussing the transpiring financial, economic, and social trends as we gradually emerge from the pandemic.
In-depth panel discussions, breakout sessions, and round tables will cover the latest investment trends, opportunities, and developments in the world of Alternative investment: Private Equity, Venture Capital, Private Debt, Hedge Funds, Real Estate, Digital Assets, Cryptocurrency, Fintech and Blockchain.
500+ Institutional and Private Investors, Fund and Wealth Managers, Family Offices, and Sovereign Wealth Funds will convene in Dubai across the two days to network with key influential figures, thought-leaders, and decision-makers
Category
Listed in: Pension Funds Conferences, Endowments and Foundations Conferences, Private Wealth and Family Offices Conferences, Middle East Investors Conferences, SWFs and Central Banks Conferences, Institutional Asset Managers Conferences, Insurance Companies Conferences, Stock Selection and Analysis Conferences, Emerging Markets Outlook Conferences, Stocks and Sectors Outlook Conferences, Alternative Asset Classes Conferences, Hedge Funds Conferences, Private Equity and VC Conferences, Commercial Real Estate Conferences, Other Alternative Investments Conferences, Debt and Credit Outlook Conferences, Fixed Income and Treasury Conferences, Commodity Markets Outlook Conferences.