Virtual Event 27 Apr 2021: FT Moral Money Summit - Europe Edition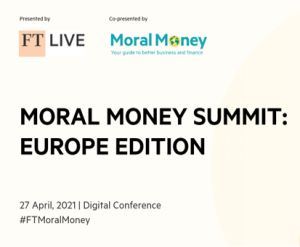 Business Collective Action: Moving from Narrative to Action
The integration between E, S and G has never been more important post-Covid. As leaders try to balance budgets and purpose, can they prove it is good business to be a good business?
Following on the success of the inaugural global summit, Moral Money Summit: Europe Edition will advance the debate around relationships, money and how business can be done more responsibly.
Will 2021 be the year that firms step up to tackle climate change and inequality? As companies look to rebuild and regenerate, incorporating sustainability into their strategy and operations is essential. The agenda will explore the concept of whole system transformation, including employee care, diversity and inclusion policies, environmentally friendly production and consumption practices, and inclusive capitalism.
Navigating the world of business in an uncertain and highly volatile world is tough. Surround yourself with the information, inspiration and people who are sharing their strategies for a world transformed by crisis.
1. Understand
How policy, business and financiers can and will collaborate to work towards a shared vision
2. Connect
And build relationships with some of the biggest names in your industry during the interactive discussion sessions
3. Discover
New approaches and strategies to help make your business more sustainable during and post-crisis
Discount for Savvy Investor members
Category
Listed in: European Pension Funds Conferences, Investment Consultants Conferences, UK Pension Funds Conferences, Endowments and Foundations Conferences, Private Wealth and Family Offices Conferences, SWFs and Central Banks Conferences, Institutional Asset Managers Conferences, Insurance Companies Conferences, ESG and Ethical Investing Conferences, Asset Allocation and TAA Conferences, Global Strategy Outlook Conferences, Cleantech Investing Conferences, Private Equity and VC Conferences, Regulation and Compliance Conferences.