Virtual Event 23-25 Feb 2021: Pension Bridge ESG Summit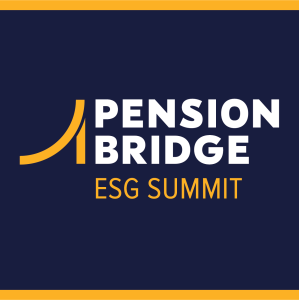 Following the successful launch of the Pension Bridge ESG Summit last February, Pension Bridge are once again preparing to bring together investors, consultants and managers to discuss how ESG is impacting the industry.
With ESG considerations increasingly influencing investor allocation decisions, especially with D&I becoming a major factor in the current climate, Pension Bridge are expecting a surge of interest from senior industry executives anxious both to understand and inform investment sentiment, and of course to forge new relationships with like-minded individuals and organizations.
The 2021 edition is expected to address the following issues:
Diversity and Inclusion: The role of investors and managers in driving change

Impact Investing: Can it be institutionalized and what structures work best? 

Climate Change: Understanding how and when these issues will impact your portfolios

Corporate Governance: The evolving role of investors in holding firms to account

How are US investors starting to roll out ESG programs and why is there still hesitation?

What lessons can North American institutions learn from their European counterparts?
Pension Bridge will use new technology to ensure you can participate in all aspects of the event, with dynamic Q&A sessions, interactive audience polls, as well as having dedicated one-on-one meetings to speak to other organizations that work in similar strategies or across similar remits.
The controlled attendance structure permits unlimited institutional investors and consultants, with a maximum capacity of 100 manager firms.
Email links
Category
Listed in: Pension Funds Conferences, DC Pensions Conferences, Investment Consultants Conferences, Pensions Administration Conferences, DB Pensions Conferences, US Pension Funds Conferences, Endowments and Foundations Conferences, Private Wealth and Family Offices Conferences, SWFs and Central Banks Conferences, Institutional Asset Managers Conferences, Insurance Companies Conferences, ESG and Ethical Investing Conferences, Asset Allocation and TAA Conferences, Global Strategy Outlook Conferences, Cleantech Investing Conferences, Canadian Pension Funds Conferences, Risk and Portfolio Construction Conferences.