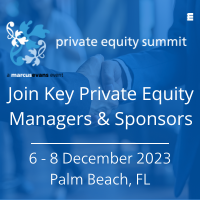 We are pleased to announce that the Private Equity Investors Summit comes to Dallas, TX this September!
This Summit is the premier gathering for leading Private & Public Pension Funds, Foundations & Endowments, Family Offices, Insurance Companies, and innovative Sponsors. Mark your calendars for the event, which takes place at the premium Eau Palm Beach Resort & Spa, Palm Beach, FL from 6th to 8th December 2023.
The summit brings together a distinguished group of professionals in the industry.
Previous attendees include:
Steve Stulb, Principal, Ironview Capital Management/ Brian Weiner, Managing Partner, Audent Family Wealth Advisors, LLC
Mehmet Budak, Founder and CIO, Bessley Capital LLC
John M. Jennings, President and Chief Strategist, The St. Louis Trust Company.
This exclusive event is designed to share best practices and foster learning through program sessions.
The Summit's content addresses crucial investment challenges, market developments, and innovative strategies embraced by successful pioneers.
To register your interest for the summit, please visit the website or get in touch directly with Isidora Avraam at isidoraa@marcusevanscy.com. #meInvest
Category
Listed in: Investment Consultants Conferences, Other Institutions Conferences, Endowments and Foundations Conferences, Private Wealth and Family Offices Conferences, SWFs and Central Banks Conferences, Institutional Asset Managers Conferences, Insurance Companies Conferences, Investment Process Conferences, Asset Allocation and TAA Conferences, Markets Outlook Conferences, Global Strategy Outlook Conferences, Alternative Asset Classes Conferences, Private Equity and VC Conferences.