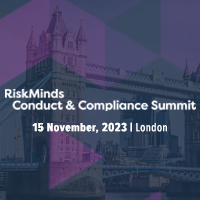 15 November 2023 | InterContinental O2 | London
10% Discount – VIP code: FKN3929SI
Visit website - https://bit.ly/3rsOcNg
MERGING THE LANDSCAPE BETWEEN RISK AND COMPLIANCE
Mark your calendar! This November for the first time ever, the RiskMinds Conduct and Compliance Summit comes to London!
Designed to reflect the merging landscape between risk and compliance, elevate your skills and network with top chief compliance & risk officers, financial crime practitioners and conduct professionals.
Discuss the latest developments across the conduct & compliance landscape including employee conduct, customer protection, the future workforce, reputational risk and much more. View the 2023 agenda here.
Taking place as part of RiskMinds International week.
Build your network. Expand your opportunities.
Please visit the event website to register your place online: https://bit.ly/3rsOcNg
Alternatively, email gf-registrations@informa.com or call +44 (0) 20 8052 2013.