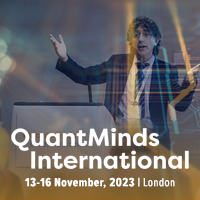 13-16 November 2023 | InterContinental O2 | London
10% Discount – VIP code: FKN3257SI 
Visit website - https://bit.ly/3PYLmda
THE QUANT FINANCE WORLD COMES TO LONDON!
Over 500 of the most exceptional quant minds from around the globe are eagerly preparing to connect at QuantMinds International in London this November!
Hear from leading industry professionals representing top organisations such as BlackRock, Bank of America, Bloomberg, Citi, AMUNDI, Morgan Stanley Investment Management, MUFG, ADIA, UBS and many more...
Experience data-rich presentations, thought-provoking panels, and engaging discussion groups. Don't miss this chance to explore the field like never before.
Build your network. Expand your opportunities.
Please visit the event website to register your place online: https://bit.ly/3PYLmda
Alternatively, email gf-registrations@informa.com or call +44 (0) 20 8052 2013.