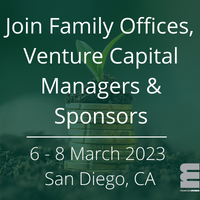 We are excited to announce that the Venture Capital Investors Summit returns!

Leading Chief Investment Officers representing Americas Foremost Institutions and Family Offices and innovative Sponsors from around the globe gather on 6-8 March 2023 at the premium Fairmont Grand Del Mar, San Diego, CA, US.

The Summit provides a highly focused and interactive atmosphere to address and gain solutions specific to the core concerns of individual attendees. 

This is an unparalleled opportunity for extensive informal networking among Family Offices and Fund Managers during event meals, cocktail receptions and one-on-one business meetings. Through one-on-one business meetings, sponsors get to meet with leading Allocators.

The summit's content is aligned with key investment challenges and interests, relevant market developments, and practical and progressive ideas and strategies adopted by successful pioneers.

Key Topics for 2023
Venture Capital Market Outlook - Identifying which areas of the start-up world will continue to drive returns going forward 
The Valuation Issue - Rising inflation, interest rates, the system-wide drain in liquidity, and probable recession/stagflation impacting private markets 
Finding Opportunities in A "New Normal" - Analyzing markets and investment strategies that will offer the best risk-adjusted returns going forward
Alternatives, ESG and Digital Assets - Selecting the right opportunities for your asset allocation strategy
Privates Investing In "Privates" (Markets) - Finding the best sources of private market information and the smartest ways to invest
Selecting the Right Partner - Finding the teams and advisors with the skill set needed to successfully navigate uncertain times 
Register your interest via https://bit.ly/3Y4iNfN or directly contact Isidora Avraam at isidoraa@marcusevanscy.com. 
#mInvest