Virtual Event 11-14 Jan 2021: Reuters Next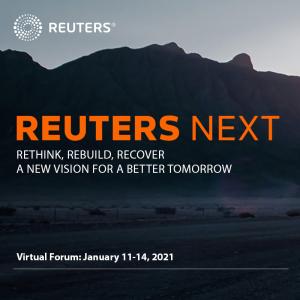 REUTERS NEXT (Jan 11-14) kicks off 2021 by gathering global leaders and forward thinkers to reimagine solutions to the challenges the new year brings.
No country, company or community can tackle the future alone. To build a better world, thinkers and doers must come together to share ideas, collaborate and act.
REUTERS NEXT draws on Reuters global reach to host diverse voices from around the world who will examine topics from different perspectives, bringing their passion, experience and expertise to find new ways forward.
Category
Listed in: Pension Funds Conferences, Investment Consultants Conferences, Endowments and Foundations Conferences, Private Wealth and Family Offices Conferences, SWFs and Central Banks Conferences, Institutional Asset Managers Conferences, Insurance Companies Conferences, ESG and Ethical Investing Conferences, Stock Selection and Analysis Conferences, Stocks and Sectors Outlook Conferences, Global Economic Outlook Conferences, Cleantech Investing Conferences, Private Equity and VC Conferences, Debt and Credit Outlook Conferences, Fixed Income and Treasury Conferences, Investment Marketing Conferences.