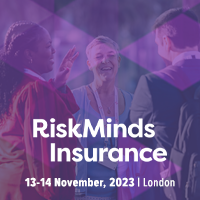 13-14 November 2023 | InterContinental O2 | London
10% Discount – VIP code: FKN3258SI
Insurance companies attend for free!
Visit website - https://bit.ly/3NS2myT
CHALLENGE CULTURE, RETHINK BUSINESS MODELS, NAVIGATE UNCERTAINTY
For over 10 years, RiskMinds Insurance has been bringing you expert insights from risk management visionaries. For the first time, the risk management world of insurance is coming to London!
Learn from expert speakers from across the globe. Get the latest market intelligence on business resilience, life product portfolios, the future of pension funds and lifetime mortgages & an ageing population. Plus hear the latest on the risks of insurability & climate risk, Gen AI, people risk and the regulatory landscape.
Taking place as part of RiskMinds International week.
Build your network. Expand your opportunities.
Please visit the event website to register your place online: https://bit.ly/3NS2myT
Alternatively, email gf-registrations@informa.com or call +44 (0) 20 8052 2013.