Webinar: Energy Independence and Investing in Europe's Energy Transition (LGIM, 2022)
Lucie Coates,

Head of Event Partnerships

|

22 Apr 2022
Updated 20 Jul 2022
WATCH NOW: Energy Independence and Investing in Europe's Energy Transition
Join Bill Hughes, Global Head of Real Assets at LGIM, Rosheen McGuckian, CEO at NTR plc and Joe Dalton, Asset Management Director at NTR plc, as they discuss the risks and opportunities facing investors seeking to gain access to Europe's energy transition, with a particular focus on wind, solar, battery storage and hydrogen infrastructure.
Discussion topics include:
The focus on energy independence: how will this affect Europe's energy transition?
The impact of inflation and rising commodity prices on renewable assets
What European subsidies mean for the renewables market
Whether investing in hydrogen infrastructure is a viable proposition
The environmental and social impact of investing in clean power
The session is moderated by Christy Lindsay, CFA, Head of Institutional Distribution, LGIM.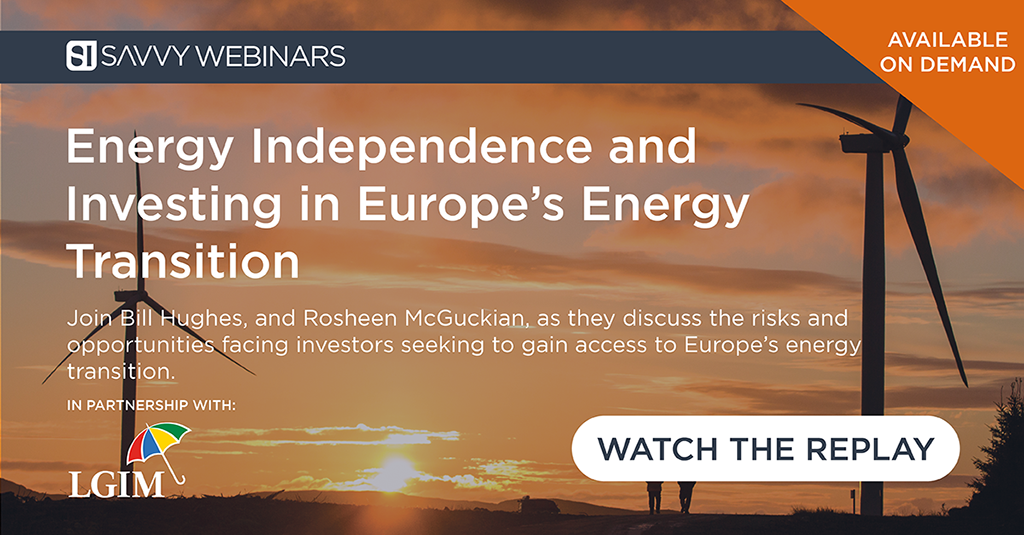 CLICK TO WATCH: Energy Independence and Investing in Europe's Energy Transition