7 Questions Content & Marketing Teams are Asking (With Answers)
A panel of content and marketing experts answer seven of your burning questions for 2021. Discover how to boost content engagement, increase collaboration with sales, and meet those 2021 goals. Thanks to Ximene Weaver, Head of Content and Marketing at Savvy Investor, Andy Baillie, Regional VP (EMEA) at Seismic, and Nick Pilkington, Consultancy Director at White Marble.
For more advice and discussion, watch our Content in a (Post) Coronavirus World webinar.
Content Trends



1. What are the major and upcoming content trends for 2021?


 
Content is not a luxury – it's an essential sales tool
More than ever, sales teams need a reason to call prospects and clients. Post-coronavirus era content provides that talking point. To maximise this, consider the role of content in your marketing and sales plans and the sales funnel. More on this later…
Become operationally efficient to be content efficient
Content reached overload point in 2020, and for many, the fatigue was real. 2021 will be the year that teams identify which content is needed, how it's landing, and whether it's working. The key to this? A company-wide content audit. Retire as much content as possible or identify where output can be stripped back in favour of the items that really get results. As part of your audit, dedicate time to understanding what's being read, what's driving client decisions, and the role content plays in closing deals/conversion. This will be critical to your team's operational success. And of course, incorporating this knowledge in your sales customer relationship management system (CRM) so that there is a continuous feedback loop between your stripped back content and the performance results you see is vital to the audit. Ask yourself: what is most important, how can we shorten production time, is this necessary, where can we automate content production?
Long-form content will increase
During the coronavirus crisis, investment firms shifted away from producing long-form content in favour of short-form. As such, the production of lightweight, reactive, short content is expected to decline as 2021 progresses, and as content and marketing teams have the time and resources to dedicate to longer-form, thematic content once again.
Budgets are being reallocated in light of lessons learned from the crisis and teams are considering where best to spend in order to better prove return on investment (ROI). Marketers in 2021 should therefore focus on creating more evergreen content. Consider how your content can have three to six months shelf life, and devise ways to create series, pillar, and flagship content. This sort of content really gives marketers the bang for their buck. And better still, it makes the content work harder, so you don't have to!
Social media: It's all about variety
Over the crisis we saw that the consistent use of text and image as a social post format achieves the lowest engagement. So, while you need consistency within your posts to be recognisably yours, social media success will be determined by using a variety of media to mix up your posts in 2021 and beyond. And while coronavirus was a catalyst for more social selling, it's important to still use variety such as posting every other day rather than multiple times a day at the same time. Remember, it's about striking a balance between visibility and presence versus overload.
Data and technology is the way forward
Data (and data utilisation) has had no choice but to deepen thanks to our new digital world. Savvy marketers who use data to inform their strategies will breed better content and thrive. As such, we are seeing teams spend more of their budgets on technology to support this shift. Tech can help by measuring ROI and make distribution more efficient. Certain tech stocks and outsourced solutions use intelligent and targeted personalisation to better engage prospects and clients. This technology is enabling more decisions to be data-driven rather than presumed – something that your senior stakeholders and the board will love.
2. What are the hot topics that investors want to hear about in 2021?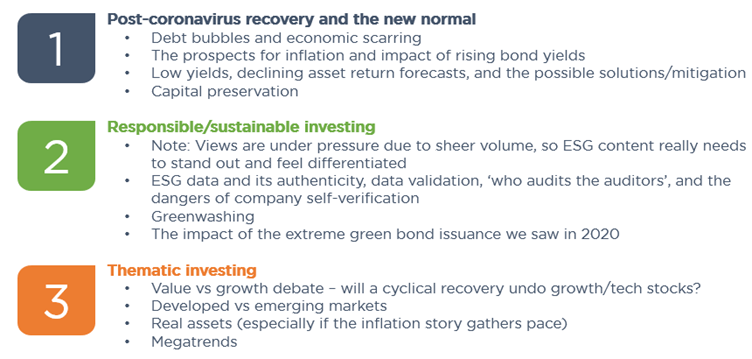 Content and the Sales Funnel
3. Where does content now sit in the sales funnel?
In our new digital prospecting environment without face-to-face events and meetings, the power behind content has monumentally changed its role within the sales funnel. We've found that blogs just don't carry the influencing potential needed to convert a prospect in those crucial – and final – stages of the sales funnel. Instead, white papers and in-depth reports are considered most useful and most influential when it comes to the perception of an asset manager. Read the full survey for a deeper look at the data.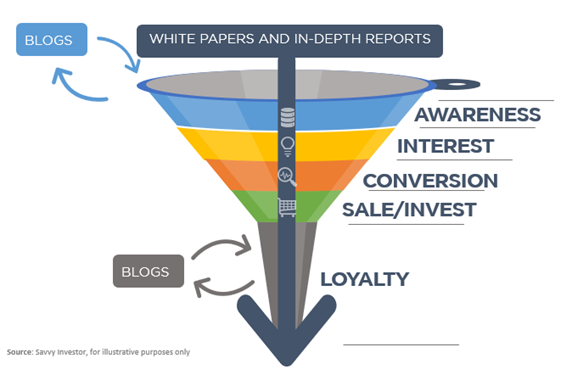 4. How can content and marketing teams better support (and collaborate with) sales teams? And how can we ensure content is being utilised properly by them and the wider business?
Admittedly, marketing's role within the sales process has been getting stronger and stronger over the last couple of years, but 2020 really cemented the value of marketing teams in the eyes of many sales teams. But for some of us, it will feel like sales teams have finally recognised how much they really need content producers and marketers. The coronavirus crisis flagged the need for teams to align and holistically consider client journeys and client progression together – from awareness and lead gen activities all the way down to the client's research process. Beginning to end. 
The simple answer to this question is therefore: continue to prove how effective content can be at getting results. Marketing ROI is no longer poetry or hard to define. Lubricating relationships between teams with better technology, improved access to rich data, and content syndication opportunities, are just some of the ways to better support sales and the business.
Better still, content and marketing teams can now bring real insights into client needs and behaviour to the board table, both at an individual level for sales, but also at an aggregate level for management. That means that marketing plans and results are becoming a real fundamental contributor to business strategy and should be recognised as such.
5. 

How can firms make certain that content ends up in the right hands?
Many might immediately say 'email technology' is the answer to this question. But actually, before you even consider technology, your segmentation needs looking at. Because it is this that will make sure you're sending content to the right people in the first place. Now this might seem like advice from five years ago, but as of 2021, we continue to see a whopping 50% of emails sent by firms in the investment industry still going to an undefined audience. To ensure content ends up in the right hands and with optimal engagement, you need to deeply know your target audience – what are their media habits, their hangouts, their needs, how sophisticated are they, what's their risk appetite, do they like detail, and what are their investment priorities? It goes without saying that all of this should be feeding in and out of your sales CRM so that your email technology can support your distribution efforts in the best way possible.
Standing Out and Differentiating your Firm Through Content



6. What can we do to make our investment content stand out and increase engagement?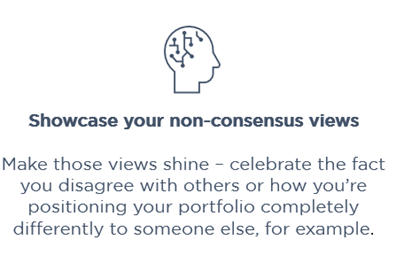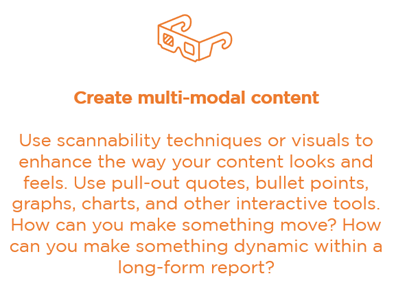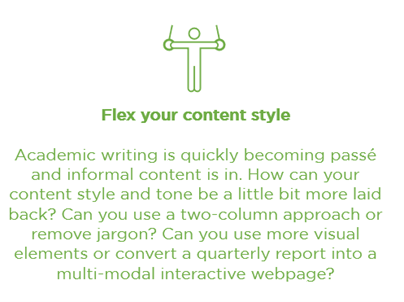 7. ESG is top of mind. How can firms differentiate themselves in this crowded space?
All firms need to consider the risks of greenwashing, lack of credibility, and inauthenticity when it comes to ESG content and positioning – basically, don't overclaim. ESG is a rapidly evolving beast. So, if your marketing material says you're experts and claim to have been doing it for 80 years, then you're probably overstating it. When it comes to marketing and to differentiating your firm, ESG is a topic that requires humility and the recognition that globally, firms need to be doing a better job. You could list the steps you're putting in place, what you're working towards, and your longer-term goals – this will be far more credible and accessible than making unsubstantiated or loud claims.
Another important angle for differentiation is that it's not just about ESG investing, it's also about your firm's corporate responsibility (CSR) and business practices. Make sure your corporate behaviour is aligned with the public messaging around your ESG policy at an investment level. Those two need to be consistent.
And don't forget about content being engaging! Is a paper or report that's highly self-promotional and sings your firm's praises really actually going to be engaging for a prospect or client? Instead, why not use storytelling or case studies in your reports to highlight the anecdotes and detail that underpin your ESG processes and actions to show the real human side or impact to activities.