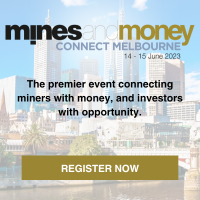 For over 20 years, Mines and Money has been at the forefront of bringing together mining companies and active investors. With an extensive global network of thousands of investors, our events are the go-to destination for industry professionals seeking to connect with explorers on the verge of uncovering the next game-changing mineral deposit, near-production development firms, and cash-generating producers.
And now, we're thrilled to announce a new addition to our portfolio of must-attend events, Mines and Money Connect Melbourne 2023, which will take place on June 14-15, 2023. Showcasing 40+ mining companies, industry service providers and playing host to 160+ investors, Mines and Money Connect Melbourne offers two action-packed days of networking, cutting-edge market analysis, comparison of investment opportunities, knowledge sharing, and, above all, forging invaluable long-term business relationships that will last well into the future.
Because connections are the cornerstone of what we do at Mines and Money, our AI-powered meeting planner, Mines and Money Connect allows you to pre-schedule all your meetings before arriving at the event, ensuring your time is optimized to the fullest while on-site. Don't miss out on this unparalleled opportunity to connect with top mining industry leaders and investors - join us at Mines and Money Connect Melbourne 2023!