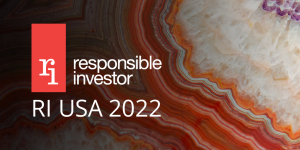 Join America's sustainable finance leaders at the Responsible Investor USA conference to gain valuable insight into how leading organizations are implementing ESG and responsible investment strategies to deliver value and sustainable outcomes.
Debate with sustainably focused investors on current trends that are shaping the regional landscape, including achieving net-zero ambitions, climate risk scenario analysis, navigating global regulatory differences the evolution of the carbon trading market, the role of politics in sustainable finance, acclimating to SEC disclosure, and much more.
The event is a must-attend for ESG, sustainable finance and responsible investment professionals in North America.
Discount for Savvy Investor members