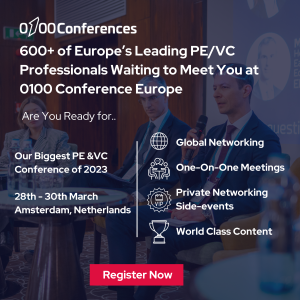 0100 Conferences is thrilled to invite you to the 0100 Conference Europe, scheduled for 28-30 March 2023 in Amsterdam, Netherlands.
This conference is designed to provide you with premium global networking with over 600 seasoned PE & VC investors in the industry so that you can exchange perspectives, experiences, and trends affecting your industry. We select over 450 successful Limited and General Partners as speakers and attendees so you can skip trial and error and build a proven successful strategy for your fund. Not only that, but 0100 Conferences also carefully hand-picked 100 speakers including high-profile executives from top investment houses to provide you with actionable information, real case studies, presentations, workshops, and discussions on and off-stage. 
 Some of the confirmed speakers:
Martin vom Hagen, Partner Adams at Street Partners

 Marco Natoli, Head of Lower Mid-Market - Northern, Eastern & Southern

Europe, Equity Investments at European Investment Fund

 Brian DeFee, Director at Top Tier Capital Partners

Maximilian Kastka, Partner, Private Equity at BC Partners

Carmela Mondino Borromeo, Head of ESG & Sustainability at Partners Group

Bill Liao, General Partner at SOSV

Fabian Wasmus, Partner at Vitruvian Partners

Anna Olsson, ESG Director at CapMan Group

Marie Asano, Partner European at Circular Bioeconomy Fund

Machtelt Groothuis, Partner, Founder at Rubio Impact Ventures

Andre Retterath, Partner at Earlybird Venture Capital

Stephan Wirries, Partner at Ventech

And many more.
Not to mention the agenda that was strategically put in place so that you can explore what inspires internationally prominent investors. During the conference, the topics explored will include such as future PE & VC trends & challenges, LP allocation, the current role of growth funds, the European fundraising market, ESG frameworks, DeepTech, deal sourcing, support of portfolio companies and many more.
You can check the latest agenda HERE.
 Are you a Limited Partner?
You can register with a complimentary ticket HERE.
 If you are not, get the ticket with a special discount code
For members of our association, we have an extra 15% discount with promo code: EU23SAVVY
If you have any questions, please, feel free to contact liza@0100conferences.com
Discount for Savvy Investor members
Email links