Best Investment Industry Paper 2021
Nuveen Wins Best Investment Industry Paper 2021
The investment industry must adapt as the environment around it changes. Priorities and challenges of the past are not the same today, and it has never been more important to understand the complex decisions that investors face. Backed by their research of 700 global investors and consultants, Nuveen's winning paper uncovered insights into what investors are doing to support their people, to develop their investment portfolios and to surmount hurdles to achieve their fiduciary objectives.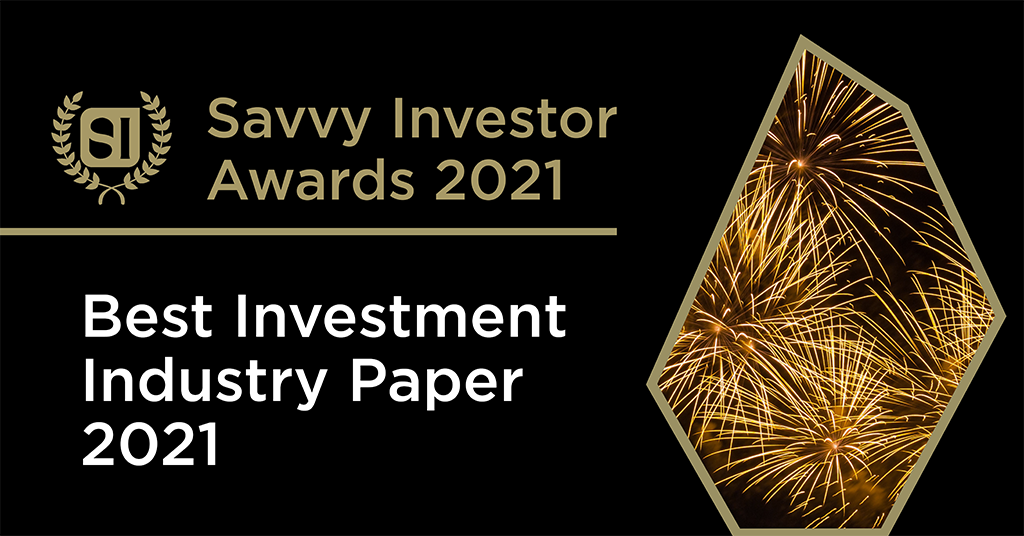 WINNER: NUVEEN
The investment industry is changing, and the research presented here tackles some of the key themes behind its evolution. Firstly, people – the human factors influencing the investor experience such as virtual working and employee wellbeing. Secondly, portfolios – the ascent of multi-asset strategies and the movement of many into private markets. Finally, problem-solving – focusing on alternatives and ESG to understand how beliefs and barriers are driving investor actions.
HIGHLY COMMENDED
A series of insights from the investment industry are presented, drawing from asset management, real estate, institutional investing and private equity. Topics covered range from societal change and diversity and inclusion to investor portfolio companies and the Wall Street-Main Street disconnect. Covid-19 impact is covered as well, the implications for private equity and portfolio companies, institutional investing's resilience and the adoption of new ways of working.
Through a wealth management (WM) lens this piece discusses some of the drivers, opportunities, and risks currently shaping the financial services industry. Nine trends are expanded on, acknowledging throughout that WM firms are facing unprecedented pressure on revenues and margins. Using the Covid-19 experience as a catalyst for change, prime areas of focus are identified in sustainable investing, technological development, digital transformation and data-driven capabilities.
By reviewing the 500 largest asset managers this study provides data on assets under management and asset allocation, with graphical insights on regional and country breakdowns, asset class evolution, benchmark comparisons, client exposure and ESG. It then takes a deep dive on growth in assets managed by the top 20 managers, before covering passive management and finally a survey of manager insights on industry trends such as sustainable investing, technology, and big data.
This paper invites us to dream big, with scale becoming a vital ingredient for success in today's environment. Structural convergence is foreseen in insurance amongst asset management, technology and portfolio construction, with firms that facilitate this process being in line to profit. Several important conclusions are arrived at thanks to this survey of more than 50 global CIOs, making it relevant not only to the insurance sector but to the investment industry as a whole.
Around the investment industry, digital assets are generating significant interest. This paper gives a useful introduction to digital assets and the crypto market before considering six models of opportunity out there for traditional financial institutions such as banks and fund managers to participate. Whilst the potential rewards could be significant, for balance a review of risk management including compliance, protocol, technology and regulatory risks is also recommended.
An essential element of the client experience is client communications, which over the years has been covered by static client reporting. Recent trends have been towards interactive client portals, but for many firms in the investment industry there have been blockers in making the shift away from the traditional towards the digital and interactive. Addressed in this paper are the current and future states of client communications, and recommendations to take forward.
DOWNLOAD THE AWARDS MAGAZINE
View all Award category winners and read the latest news from Savvy Investor directly from CEO Andrew Perrins in the 2021 Awards Magazine. Download now!
ABOUT THE SAVVY INVESTOR AWARDS
The Savvy Investor Awards celebrate the best content from across the global institutional investment industry. We present awards across 10 different categories including the best overall paper.
Every year our Content Team handpicks and uploads over 10,000 articles and papers to the Savvy Investor platform. This library, alongside engagement data from 57,000+ members, means our judges are well-placed to identify and assess the award-worthy papers of 2021. The Awards are judged on many elements including the depth, quality, readability, and of course, appeal and relevance to our institutional investor audience. In a world saturated with content, and where it's difficult to cut through the noise, it is a great pleasure to highlight quality, cutting edge, and deeply engaging thought leadership for the investment community.
As the leading content hub for institutional investors, the Savvy Investor Awards were designed to help to affirm or establish authors and firms as true thought leaders within the industry.
PARTNER WITH SAVVY INVESTOR
To find out how you can partner with Savvy Investor to enhance your thought leadership credentials in the institutional investor marketplace, please contact our Head of Partner Sales, Stuart Blake, stuart.blake@savvyinvestor.net.
DIGITAL ASSETS FOR AWARD WINNERS (INCLUDING HIGHLY COMMENDED)
Savvy Investor has created digital assets (award banners and links) for you to publicise your award in social media, blogs, emails, newsletters and on your website. To receive your digital assets, please email business@savvyinvestor.net.