Virtual Event 4 Nov 2021: FT Wealth Management Summit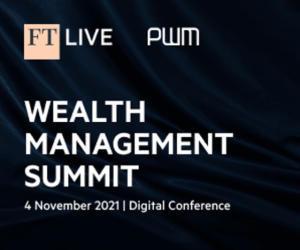 Join FT Live at this year's fourth annual FT and PWM Wealth Management Summit, hosted by PWM's Editor-in-Chief, Yuri Bender.
Hear insights from leading experts from top private banks, family offices and wealth managers in the growing cross-border marketplace. With its focus on global trends and innovations, the Summit will also drill down into developments and changing business models in key European markets.
Discount for Savvy Investor members
Category
Listed in: Other Institutions Conferences, Private Wealth and Family Offices Conferences, Investment Process Conferences, ESG and Ethical Investing Conferences, Stock Selection and Analysis Conferences, Quant and Tools Conferences, Markets Outlook Conferences, Emerging Markets Outlook Conferences, Stocks and Sectors Outlook Conferences, Global Economic Outlook Conferences, Alternative Asset Classes Conferences, Private Equity and VC Conferences, Risk and Portfolio Construction Conferences, Regulation and Compliance Conferences.