Virtual Event 14-15 Apr 2021: 2nd Annual ETFGI Global ETFs Insights Summit - Latin America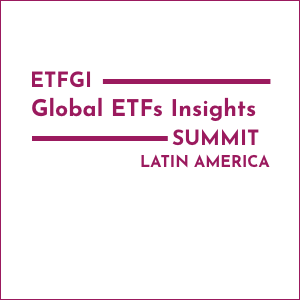 Register to join the discussions at the 2nd annual virtual ETFGI Global ETFs Insights Summit - Latin America.
The summit is designed to facilitate a substantive and in-depth discussion on the market structure, regulatory, trading, and technological developments impacting the use of and opportunity for local, US-domiciled and UCITS ETFs by various types of investors in Latin America.  

Drivers of growth in the use of ETFs include a growing middle class, desire to diversity investments, increase in pension savings and the use of third-party investment products by pension funds and insurance companies and changing regulatory landscape.

The event is designed for ETF issuers, brokerage firms and others in the ETF ecosystem globally that are interested in understanding how to tap into the growing interest in ETFs in Latin America.

Panels will discuss the current and future use of ETFs by various types of investors and the regulatory requirements for local ETFs, US-domiciled and UCITS ETFs to be marketed, sold and bought in Mexico, Brazil, Chile, Colombia, Peru, Uruguay and Costa Rica.

Attendees will have the opportunity to see and hear speakers via live video and audio of the keynote and panel discussions with audience Q&A, visit virtual event booths where they can meet and speak with sponsors, attend virtual happy hours and join virtual networking sessions.

If you can't attend on the day, register anyway and you'll receive recordings of all the sessions.

CPD educational credits are offered to buy side institutional investors, financial advisors, and RIAs
Category
Listed in: Pension Funds Conferences, Investment Consultants Conferences, US Pension Funds Conferences, Other Institutions Conferences, Endowments and Foundations Conferences, Private Wealth and Family Offices Conferences, SWFs and Central Banks Conferences, Institutional Asset Managers Conferences, Insurance Companies Conferences, Investment Process Conferences, Asset Allocation and TAA Conferences, Quant and Tools Conferences, ETFs and Funds Conferences, Alpha Trading Strategies Conferences, Markets Outlook Conferences, Emerging Markets Outlook Conferences, Global Strategy Outlook Conferences, Canadian Pension Funds Conferences, Regulation and Compliance Conferences, Investment Technology Conferences.