Virtual Event 5-16 Oct 2020: Inside ETFs Europe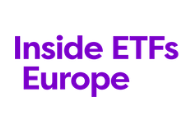 Get the latest market intelligence at Europe's leading ETF conference. Find a comprehensive agenda that delivers the latest intelligence on the European ETF Market. Less panels. More depth. More variety. Dissect ETF trends in new lightning talks, Q&A sessions and hard-hitting mini keynotes.
Learn how key investors are deploying ETFs in their portfolios to deliver extra value for clients.
Asset allocators, asset owners, ETF buyers, and fund buyers can apply to attend for free and will enjoy more tailored, investor-led sessions than ever before.
Meet 250+ decision-makers from across the ETF spectrum, including, private banks, family offices, broker/dealers, institutional investors, ETF issuers, index providers and market makers.
Build relationships and create new ones.
Plus, your ticket to Inside ETFs Europe includes access to the full IM|Power delegate list with 2,000+ senior professionals logging in from around the world.
Category
Listed in: Pension Funds Conferences, European Pension Funds Conferences, Investment Consultants Conferences, UK Pension Funds Conferences, Other Institutions Conferences, Endowments and Foundations Conferences, SWFs and Central Banks Conferences, Institutional Asset Managers Conferences, Insurance Companies Conferences, Investment Process Conferences, Quant and Tools Conferences, ETFs and Funds Conferences, Index Investing Conferences, Risk and Portfolio Construction Conferences, Regulation and Compliance Conferences.