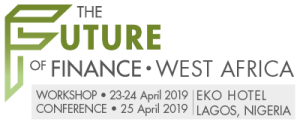 Organized by The Asian Banker, The Future of Finance West Africa is the leading annual conference designed for bankers and financial services professionals to know the most current trends in the industry. The event is a platform for insight sharing, networking, and strategic planning for 150+ policymakers, investors, innovators, regulators, academics, local and international business leaders. There will also a pre-conference workshops about digital strategy on innovation and small business banking infrastructure.
You can view the agenda here: http://forums.theasianbanker.com/fofwestafrica2019/agenda-at-glance.
Category
Listed in: Other Institutions Conferences, Private Wealth and Family Offices Conferences, Middle East Investors Conferences, Investment Process Conferences, ESG and Ethical Investing Conferences, Stock Selection and Analysis Conferences, Quant and Tools Conferences, Markets Outlook Conferences, Emerging Markets Outlook Conferences, Stocks and Sectors Outlook Conferences, Investment Technology Conferences.