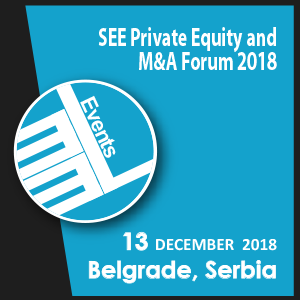 Now in its 11th year, the SEE PE & M&A Forum will deliver a comprehensive overview of the region's investment activity through thought leadership presentations and real-life case studies, to illustrate why Southeast Europe continues to attract interest from funds new to the region and remains an important location in the minds of established regional investors. Recent announcements of Romania's first unicorn, with investment from some of the most influential US and European VCs, further endorses opportunities in the whole of SEE region.
PROGRAMME HIGHLIGHTS:
Private equity outlook: from global trends to local risks and rewards

International and domestic investors' outlook on assets attractiveness in the region

M&A dynamics and valuation in 2018/2019

Update on exit activity in the region and challenges in achieving these

Successful stories of investment

Listen to more than 30 speakers addressing key issues facing investors

Benefit from dedicated content streams for sell and buy side

Make the most of variety of formats including keynotes, panel debates, case studies and audience Q&A sessions

Take advantage of 3+ hours of networking opportunities
Category
Listed in: Pension Funds Conferences, European Pension Funds Conferences, Investment Consultants Conferences, Other Institutions Conferences, Middle East Investors Conferences, Institutional Asset Managers Conferences, Markets Outlook Conferences, Emerging Markets Outlook Conferences, Global Economic Outlook Conferences, Alternative Asset Classes Conferences, Private Equity and VC Conferences, Commercial Real Estate Conferences.