Digital Marketing for Financial Services Summit West (San Francisco, CA) 22-23 Feb 2018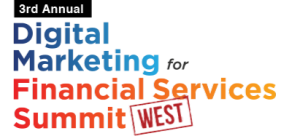 Event: 3rd Annual Digital Marketing for Financial Services Summit West (DMFS West)
Date: 22nd and 23rd February 2018
Location: Parc 55, San Francisco, California  
Contact: Karina Makhija, Marketing Manager  - karina@strategyinstitute.com, 416 944-9200 x 209
Website: https://goo.gl/MkJ4J3
Brochure: https://goo.gl/GoNZMr
Registration: https://goo.gl/cKtts5
Description:
Insights from senior financial services leaders on how to increase revenue, drive conversions and more – Just for Financial Marketers!
The 3rd Annual Digital Marketing for Financial Services Summit West is returning to San Francisco in February 2018. Meet, network and learn from Wells Fargo, Franklin Templeton, Western Union, New York Life, Rabobank etc. and discuss topics like artificial intelligence, customer experience, mobile, social, disruption and more. This summit brings together global professionals in the rapidly advancing field of Digital Marketing and gives you the opportunity to network with industry-leaders.
Calling all Financial Marketing Professionals - Don't miss this chance to maintain your competitive edge and build relationships!!
Digital Marketing Thought-Leaders Speaking at the Summit:
Robert Rose, Chief Strategy Officer, CONTENT MARKETING INSTITUTE
Ravi Misquitta, SVP, Marketing Strategy and Technology, FRANKLIN TEMPLETON
Karen O'Brien, VP, Global Social Media, Brand and Engagement, WESTERN UNION
Serge Vartanov, CMO, AUTOGRAVITY
Amit Pandya, Corporate Vice President, Digital Marketing, Retail Annuities, NEW YORK LIFE
+ More…
Download your free copy of the brochure to view the full list of speakers & sessions.
REGISTER NOW!
Three easy ways to register:
Register Online: CLICK HERE
Call: 1 866 298 9343 ext 200 (Toll Free)
EARLY BIRD OFFER: Register by Jan 12th 2018 and SAVE $200
Discount for Savvy Investor members