Investment Content Quarterly (ICQ) Q1 2020
The fourth edition of our new "Investment Content Quarterly" (ICQ) publication has just been released.
The analysis has been developed In response to requests from Investment Marketers, who had requested a way to track global trends in the institutional consumption of investment content and thought-leadership.
This unique, 38-page document provides market intelligence to help investment marketers develop and fine-tune their content marketing strategy. It is intended primarily for partners of Savvy Investor, but is currently available as a free download by visiting investment content quarterly trends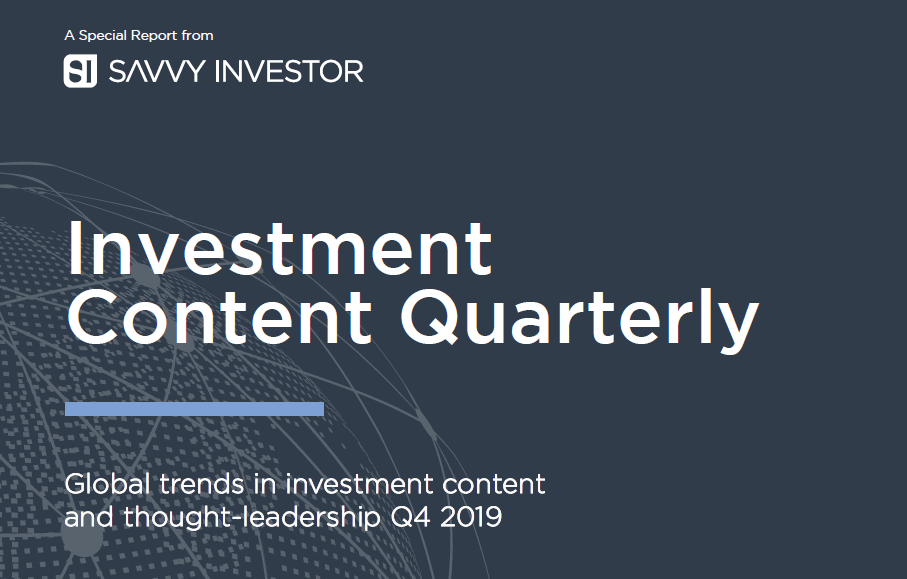 Savvy Investor is uniquely positioned to commentate on content trends within the institutional investor community. The platform provides a live "survey sample" of over 44,000 highly engaged institutional members, who download around 30,000 articles and white papers every month. Last year more than 9,000 white papers, market commentaries and articles were uploaded to the Savvy Investor platform, including content from most of the leading asset management companies and investment consultants. This gives Savvy Investor an unrivalled depth of insight into the marketplace for investment content marketing.
The publication provides details of the 100 most popular papers of the last quarter and trends in topic popularity, analysed by region and by company type. It also provides insight into the factors that drive investor engagement and measures of content quality.
The dawning of a New Year is an obvious time to publish substantial, forward-looking thought pieces. Most yearly Investment Outlooks are published in December. Five of the top fifty most-viewed reports of the final quarter of 2019 were on the subject of the 2020 Investment Outlook, and in total, represented twenty-eight of the top one hundred most in Q4. The most popular paper in Q4 was "2020 Outlook: Expecting the Unexpected" by UBS Asset Management.
With investment committees and asset allocators determining their strategy for the year ahead, high-quality analysis of the investment outlook receives strong engagement. For similar reasons, "Capital Market Assumption" reports are also well-received. Seven of the top one hundred were of this type in Q4; providing asset allocators and other investors with long-term return forecasts for the next five to ten years. 
By comparison, ESG themes account for seven of the top one hundred papers published. ESG remains the hottest of the "hot topics" for investors. There should also be a special mention for papers on Investment Technology, such as the CFA Institute's report, "AI Pioneers In Investment Management" which has generated in excess of two thousand five hundred views on the site .
Amongst the many questions answered in this report:
Which companies feature in the list of one hundred most popular papers?
Which topics are most popular amongst asset owners and allocators?
In which regions are investors most engaged with ESG principles?
What are the drivers of engagement with investment thought-leadership?
To download the latest document in its entirety, visit the investment thought-leadership page on the Savvy Investor website.