Gold hits five-year highs: should it be a Strategic Allocation?
Should Gold be considered an Institutional Asset Class in its own right?

This week, the gold price has hit five-year highs, in tandem with 10Y US Treasury yields falling back below 2% for the first time since November 2016. 
Should asset allocators re-examine the possibility of holding gold as a strategic allocation? In the first paper below, the World Gold Council examines the characteristics of gold and its value as a strategic and diversifying asset.
In a similar vein, Amundi Asset Management discusses the specific case for gold allocations within central bank reserve portfolios, especially considering the interest in diversifying away from dollar-dominated reserve allocations and into additional currencies and alternative assets.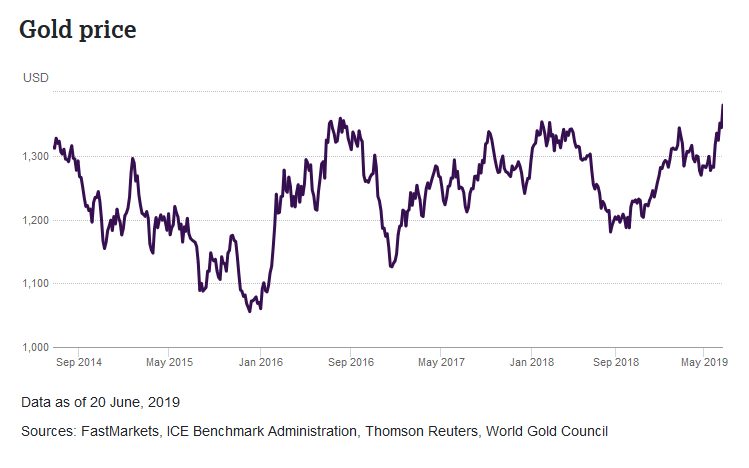 For compliance reasons, this paper is only accessible in certain geographies
Gold is a highly liquid yet scarce asset, and it is no one's liability. It is bought as a luxury good as much as an investment. As such, gold can play four fundamental roles in a portfolio: a source of long-term returns, a diversifier that can mitigate losses in times of market stress, a liquid asset with no credit risk that has outperformed fiat currencies, and a means to enhance overall portfolio performance.
After a long lacklustre period during the 1980s and 1990s, the price of gold has picked up significantly since the new millennium, and central banks, after having steadily reduced their allocation to gold, have resumed their gold purchases. This has been particularly the case for emerging central banks. This paper by Amundi Asset Management explores the relevance of gold as an asset class for central bank portfolios and conduct portfolio simulations, using their 10-year forward-looking scenarios and asset returns, as well as diversification-based optimisation schemes, which best emphasise gold's diversification potential.
For compliance reasons, this paper is only accessible in certain geographies
DWS AM argue that historical correlations don't support that theory that gold is an inflation hedge, but instead suggest that it could be a hedge against declining growth expectations.
In this blog post, Axioma's Diana R. Rudean, PhD, examines who the likely winners (and losers) are if gold continues to rise, and equities fall in a 'risk-off' environment. 
State Street Global Advisors presents the case for gold as a core diversifying asset with a long term strategic role in portfolios.
For compliance reasons, this paper is NOT accessible in the United States and Canada
Does gold merit a place amongst the holdings of institutional portfolios? LGIM investigates this question, given volatility in gold prices in 2018.
This paper reviews long term demographic and economic trends, emerging market demand and supply dynamics, the gold mining industry, and gold's usage in the jewellery and technology industries in order to provide a picture of the likely evolution of the gold market over the next three decades.
Gold, for many investors, has only recently become a viable tradable asset despite having been described as the "golden constant" and used as an inflation hedge for thousands of years. The real price of gold is high, historically, so care should be taken. The price of gold in the past gold real returns have been below average when the real price of gold was in fact above average.