Best Strategy and Economics Paper 2021
PGIM Wins Best Strategy and Economics Paper 2021
Following a protracted period of apparent standstill during the coronavirus pandemic, the investment industry is increasingly looking forward again. What are the most likely regions of growth, according to the professionals? What industries should long-term investors consider for index-busting performances? The winning paper in this category, from PGIM, explores the technologies and innovations that may well revolutionise various industry sectors in the not-too-distant future.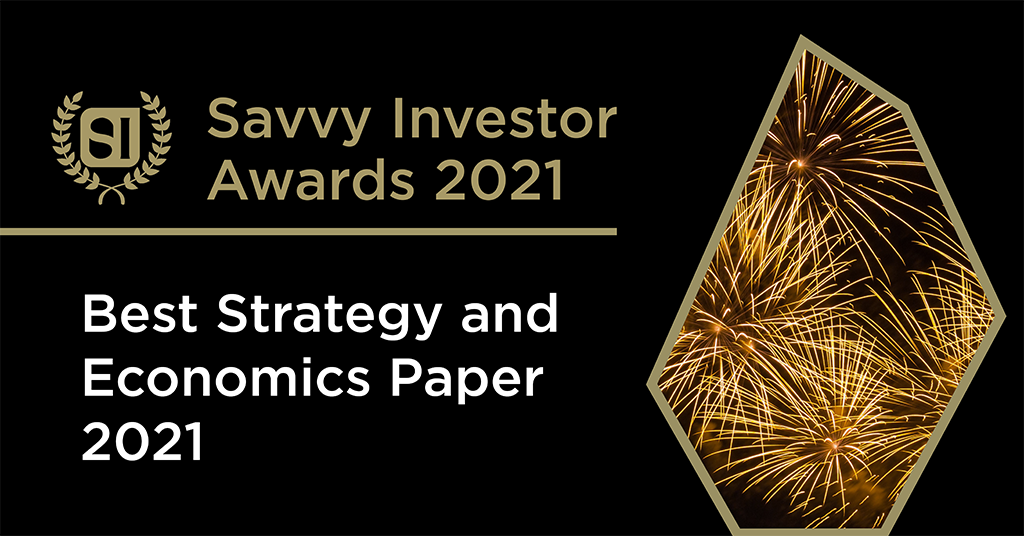 WINNER: PGIM
PGIM has drawn from the insights of more than seventy of its own investment professionals as well as academics, technology experts, and venture capitalists for a comprehensive line-up of industry sectors at the sharp end of the technological disruption that will deserve to be called revolutionary. They list cloud computing, AI, machine learning, gene editing and other innovations as factors expected to transform particularly the financial services, healthcare and logistics sectors.
HIGHLY COMMENDED
For compliance reasons, this paper is NOT accessible in the United States
Amundi makes a strong case for investors to look at emerging markets again in 2022. They believe the worst of the Covid-19 pandemic, China's regulatory crackdowns and concerns about global central bank actions are behind us and that the New Year should allow a much more confident look at the returns potential of EM markets going forward. They put China and Asia at the core of successful global EM portfolios and point particularly at domestic demand-driven sectors and EM green bond issues.
For compliance reasons, this paper is only accessible in certain geographies
In their comprehensive global study, RBC Global Asset Management provides well-structured outlooks for fixed-income markets and for regional equity markets in North America, Europe, Asia and emerging markets as well as highly authoritative assessments of major asset classes. The firm's Investment Strategy Committee expects the late-2021 equity bull market to remain supported by strong fundamentals well into 2022 and they recommend an equities-heavy asset mix with a reduced fixed income element.
For compliance reasons, this paper is only accessible in the UK & Europe
WisdomTree Investments makes well-researched and confident predictions for 2022 focusing on the commodity, equity, fixed income and crypto assets sectors. They expect a boost to many commodities from an infrastructure boom and the accelerating energy transition and view 2022 as a key year for crypto assets due to exciting developments in investors adoption, regulation and technological advances. The paper closes with an illustrative model portfolio.
For compliance reasons, this paper is only accessible in certain geographies
Expertly tackling the big themes in current investing, Invesco provides straightforward and clear projections going into the next year. They lay out why they stay overweight on equities and are boosting allocations to emerging market, Japanese and UK assets, with an overall preference for EM and the UK. They expect equities to offer good returns as economies worldwide recover from the Covid-19 pandemic and continue using cash as diversifier of choice.
PIMCO offers an authoritative study on the modern history and current state of inflation, supported by illustrative calculations and tables. They conclude their study by proposing an asset allocation framework that accounts for a variety of macro scenarios over a 5-10-year horizon. The most prominent features are an overweight stance on private debt and a public equity underweight. The firm believes there is a high probability that inflation will be contained in the longer term.
Written in an easy-to-read style, the authors explore ways of hedging investors' portfolios against inflation and note that while Treasury Inflation-Protected Securities (TIPS) are an obvious choice for many, long-term investors are more likely to seek assets that act as a store of value. They present compelling data to dismiss commodities, gold and bitcoin as effective solutions and maintain their recommendation of using true, real assets as a store of value – and prefer equities.
DOWNLOAD THE AWARDS MAGAZINE
View all Award category winners and read the latest news from Savvy Investor directly from CEO Andrew Perrins in the 2021 Awards Magazine. Download now!
ABOUT THE SAVVY INVESTOR AWARDS
The Savvy Investor Awards celebrate the best content from across the global institutional investment industry. We present awards across 10 different categories including the best overall paper.
Every year our Content Team handpicks and uploads over 10,000 articles and papers to the Savvy Investor platform. This library, alongside engagement data from 57,000+ members, means our judges are well-placed to identify and assess the award-worthy papers of 2021. The Awards are judged on many elements including the depth, quality, readability, and of course, appeal and relevance to our institutional investor audience. In a world saturated with content, and where it's difficult to cut through the noise, it is a great pleasure to highlight quality, cutting edge, and deeply engaging thought leadership for the investment community.
As the leading content hub for institutional investors, the Savvy Investor Awards were designed to help to affirm or establish authors and firms as true thought leaders within the industry.
PARTNER WITH SAVVY INVESTOR
To find out how you can partner with Savvy Investor to enhance your thought leadership credentials in the institutional investor marketplace, please contact our Head of Partner Sales, Stuart Blake, stuart.blake@savvyinvestor.net.
DIGITAL ASSETS FOR AWARD WINNERS (INCLUDING HIGHLY COMMENDED)
Savvy Investor has created digital assets (award banners and links) for you to publicise your award in social media, blogs, emails, newsletters and on your website. To receive your digital assets, please email business@savvyinvestor.net.