PGIM IAS Wins Best Quant Paper 2021
Quantitative finance applications have continued to grow in popularity across the institutional investment world in 2021. Despite the 'Covid-quake' of March 2020, this year has seen increased institutional interest in quant – whether for risk management, portfolio construction, or asset allocation strategies. As quant continues its consolidation across themes such as factor investing and ARP, new areas of research are further developing the art of quant whether in stock-bond correlations, quant ESG, or quant credit.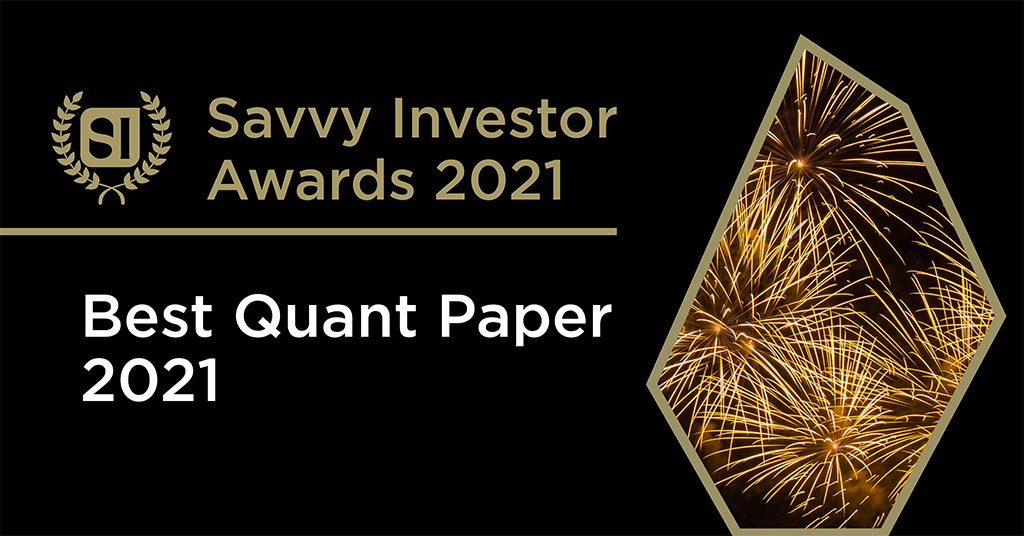 WINNER: PGIM IAS
By dissecting historical economic environments, PGIM provides a comprehensive and detailed assessment of the key macroeconomic conditions and economic policy settings that affect stock and bond correlations. When applying these insights for the future, institutional investors will need to be cognisant of interest rate volatility, the equity risk premium, and the trajectory of economic growth to ensure asset allocation strategies can adapt to changing global market dynamics in 2022.
HIGHLY COMMENDED
Quantitative research has historically focused on equities, commodities, foreign exchange, and their respective derivatives. Man Group's primer on quant credit illustrates that the market structures and architecture within fixed income may present ripe opportunities for capturing investment returns. By harvesting uncorrelated returns, which are absent of human bias or emotions, the quant credit trade should form part of a well-rounded strategy for all discerning quant allocators.
As global consumer prices have risen sharply this year, institutional investors have recognised that whether transitory or structural, investment strategy must always remain adaptive to the current inflationary environment. S&P Dow Jones Indices presents a method for protecting against inflation via a multi-asset index, where due consideration is given to the varying nature of inflation regimes and inflation sensitivities of asset classes across certain market conditions.
The algorithms that seek to capture alternative risk premia (ARP) now form part of $360 billion market segment of the hedge fund industry. This academic paper sheds light on the performance of the ARP market as provided by banks' total return swaps. Except for currency premia, several asset classes demonstrated significantly positive returns over a 10-year period, illustrating the merits of ARP as a robust quantitative strategy.
As the dominant investment theme of the last few years, ESG remains at the forefront of many – if not all – institutional investors' minds. For investors wishing to fully implement E, S, and G into a practical investment process, the impact of positive and negative screening, performance benchmarking and tracking error, geographical factors, and many other variables must all be considered when constructing environmentally friendly fixed income portfolios.
For compliance reasons, this paper is only accessible in certain geographies
Invesco's detailed survey of institutional investors shows that there is widespread adoption of factor investing and that that it is not just 'growth versus value' that concerns the modern fund manager in 2021. Focusing on wholesale and institutional investors with a combined $31 trillion under management, this survey highlights four key themes underpinning factor investing and the way the discipline is being implemented across the investment industry today.
As one of the first investigations into emerging market credit factors, Robeco presents a detailed analysis of hard currency corporate bonds, and the predictability of investment returns across size, value, momentum, and low-risk factors in both single-factor and multi-factor portfolios. This analysis demonstrates that there is clear scope for further research to be conducted in the application of quant strategy in EM rather than DM corporate debt.
DOWNLOAD THE AWARDS MAGAZINE
View all Award category winners and read the latest news from Savvy Investor directly from CEO Andrew Perrins in the 2021 Awards Magazine. Download now!
ABOUT THE SAVVY INVESTOR AWARDS
The Savvy Investor Awards celebrate the best content from across the global institutional investment industry. We present awards across 10 different categories including the best overall paper.
Every year our Content Team handpicks and uploads over 10,000 articles and papers to the Savvy Investor platform. This library, alongside engagement data from 57,000+ members, means our judges are well-placed to identify and assess the award-worthy papers of 2021. The Awards are judged on many elements including the depth, quality, readability, and of course, appeal and relevance to our institutional investor audience. In a world saturated with content, and where it's difficult to cut through the noise, it is a great pleasure to highlight quality, cutting edge, and deeply engaging thought leadership for the investment community.
As the leading content hub for institutional investors, the Savvy Investor Awards were designed to help to affirm or establish authors and firms as true thought leaders within the industry.
PARTNER WITH SAVVY INVESTOR
To find out how you can partner with Savvy Investor to enhance your thought leadership credentials in the institutional investor marketplace, please contact our Head of Partner Sales, Stuart Blake, stuart.blake@savvyinvestor.net.
DIGITAL ASSETS FOR AWARD WINNERS (INCLUDING HIGHLY COMMENDED)
Savvy Investor has created digital assets (award banners and links) for you to publicise your award in social media, blogs, emails, newsletters and on your website. To receive your digital assets, please email business@savvyinvestor.net.