Best Fixed Income Paper 2021
CFA Institute Research Foundation Wins Best Fixed Income Paper 2021
Bond markets are potentially at a crucial turning point where investors will have to understand the implications of current negative yields in many markets in the context of a return to a positive yielding environment. We cannot be sure about the path of inflation, policy rates or even yields, but the CFA Institute Research Foundation's winning paper tackles what for many has been an uncomfortable phenomenon in negative interest rates, behind which are many factors and consequences.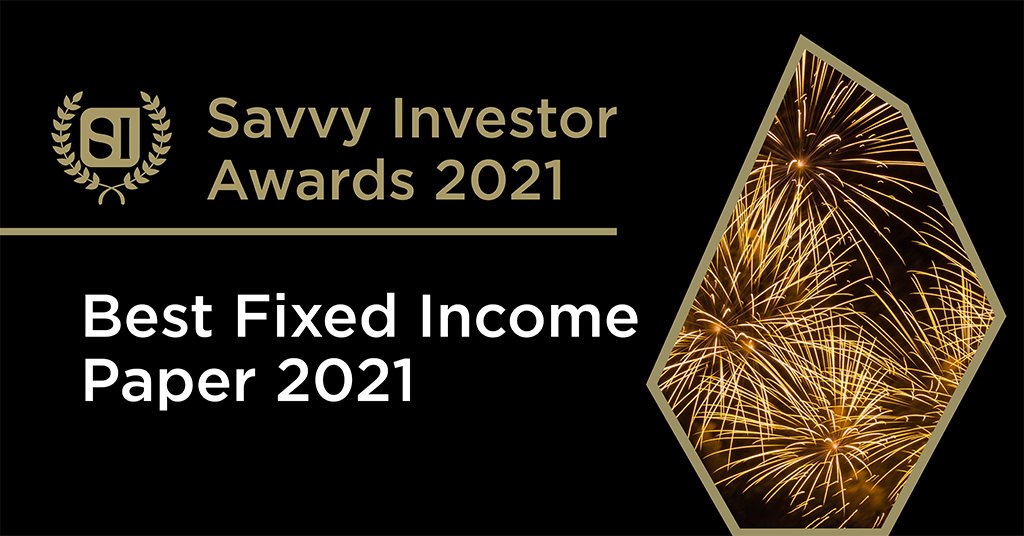 WINNER: CFA INSTITUTE RESEARCH FOUNDATION
Whilst fixed income investors have had to get used to negative interest rates and yields, the discussion continues over an intuitively challenging concept. This CFA Institute paper picks up the debate by exploring negative-yielding bond markets and asking who is buying such debt and why. The part that central banks play is covered before looking at consequences for valuation and risk management, concluding by asking if there is really anything wrong with negative yields?
HIGHLY COMMENDED
For compliance reasons, this paper is NOT accessible in the United States
Annual issuance of green bonds in emerging markets (EM) is expected to pass $100 billion by 2023. Whilst EM economies especially are still tussling with Covid-19, there is nevertheless great potential for EM green markets. The current state of the market including investment performance and greenium compared to convention EM bonds are appraised. The paper also outlines relevant policy and regulatory factors, and looks at regional opportunities for green bond market growth.
For compliance reasons, this paper is NOT accessible in the United States
In terms of risk and reward, direct lending can be viewed as sitting between high-yield bonds and mezzanine debt on the fixed income range. A way of comparing direct lending strategies on a relative basis is presented here, specifically highlighting differences between unitranche and senior secured loans. Current market pricing is also discussed and whether it is truly reflective of incremental loss factors such as leverage, subordination and covenant light documentation.
For compliance reasons, this paper is only accessible in certain geographies
Sustainable bonds issuance is booming with issuers and investors all wanting a piece of the market. Multiple flavours – green, social, sustainability, sustainability-linked and now climate transition – are available, but are they really all needed? This paper also explores what level of influence and engagement buying green bonds can give, and looks into how the cost of funding compares to conventional bonds. Aviva Investors concludes that the market's popularity is no fad.
For compliance reasons, this paper is only accessible in certain geographies
Never has government borrowing been so important to understand. Global government debt was already rising before Covid-19 but the response to the pandemic has taken it to another level. This year alone debt was expected to increase by around $4 trillion, equivalent to $768 per person. Including a regional and country focus, this long-term study breaks down why levels of government borrowing matters, how they can afford it and where opportunities for investment may lie.
Within target date funds (TDFs), this paper makes the case for a reconsideration of how sponsors allocate to and within fixed income at various points in the retirement savings journey. A glide path maps out the level of fixed income within TDFs throughout the accumulation, consolidation and decumulation phases. MFS IM believes there is room for realignment based on evolving participant objectives and risk management, moving away from solely focusing on maximising returns.
One of the consequences of Covid-19 for many nations has been a debt overhang. For emerging and frontier markets in particular there are concerns over how they will service their debt, so this paper analyses credit risks, presenting a debt sustainability and liquidity score, across multiple countries. The model highlights the countries best equipped to deal with the overhang, those that may struggle, and those where there may be investment opportunities due to mispricing.
DOWNLOAD THE AWARDS MAGAZINE
View all Award category winners and read the latest news from Savvy Investor directly from CEO Andrew Perrins in the 2021 Awards Magazine. Download now!
ABOUT THE SAVVY INVESTOR AWARDS
The Savvy Investor Awards celebrate the best content from across the global institutional investment industry. We present awards across 10 different categories including the best overall paper.
Every year our Content Team handpicks and uploads over 10,000 articles and papers to the Savvy Investor platform. This library, alongside engagement data from 57,000+ members, means our judges are well-placed to identify and assess the award-worthy papers of 2021. The Awards are judged on many elements including the depth, quality, readability, and of course, appeal and relevance to our institutional investor audience. In a world saturated with content, and where it's difficult to cut through the noise, it is a great pleasure to highlight quality, cutting edge, and deeply engaging thought leadership for the investment community.
As the leading content hub for institutional investors, the Savvy Investor Awards were designed to help to affirm or establish authors and firms as true thought leaders within the industry.
PARTNER WITH SAVVY INVESTOR
To find out how you can partner with Savvy Investor to enhance your thought leadership credentials in the institutional investor marketplace, please contact our Head of Partner Sales, Stuart Blake, stuart.blake@savvyinvestor.net.
DIGITAL ASSETS FOR AWARD WINNERS (INCLUDING HIGHLY COMMENDED)
Savvy Investor has created digital assets (award banners and links) for you to publicise your award in social media, blogs, emails, newsletters and on your website. To receive your digital assets, please email business@savvyinvestor.net.