Robeco Wins Best ESG Paper 2021
While some industrial facilities look to transition to a low-carbon economy, others are just trying to stay afloat; from the global energy crisis to the pledges made during COP26, ESG has been at the forefront of change. Robeco's 'The Stunning Statistics of Sustainable Investing' expertly captures where the rapidly expanding focus on sustainable investing has gone, from a minor consideration to a major influential movement. See below our winner and highly commended white papers.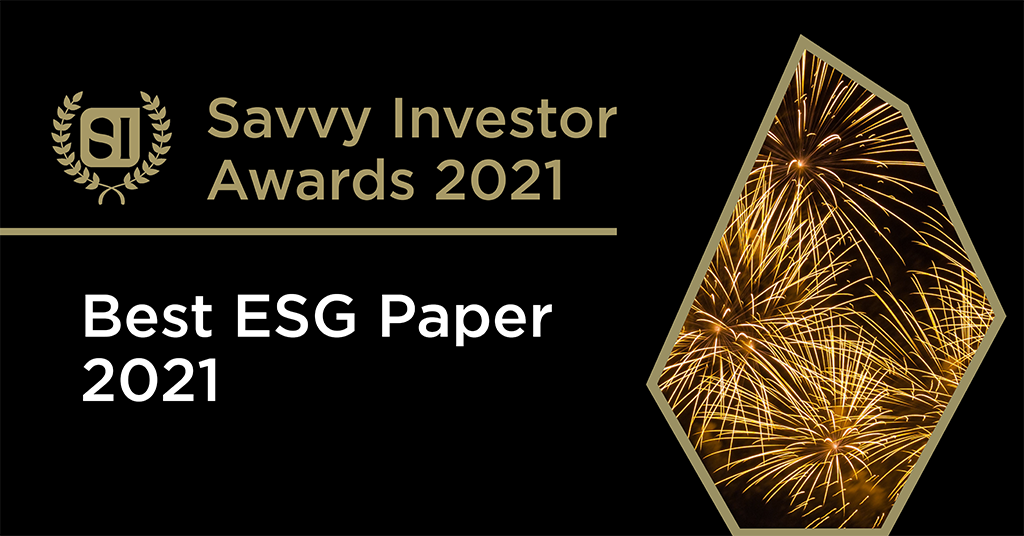 WINNER: ROBECO
In Robeco's sustainable investing collection, this piece explores six categories and reveals some truly stunning statistics! The world of ESG throws us new numbers and statistics every month, which in turn can influence investor action. This paper also delves into some of lesser-thought contractions such as that shorter flights are worse than longer ones, or that the global population is unsustainable due to shrinking, rather than its expansion!
HIGHLY COMMENDED
Risk management is a primary driver in ESG considerations, as this helps ESG integration methods identify hidden or devalued credit drivers. This paper evaluates the fundamental issues in ESG credit risk, using ESG scores in a way to address credit analysis and ESG factors which lead to decision-making. Fitch Ratings detail the ESG risks in assorted sectors, revealing any key analysis and insights useful to credit investors.
As the interest in adhering to sustainable development goals (SDGs) continues to grow, so too does the focus on what effects investment decisions are having on the 'real' economy. Here, Impax measure the pursuit of greater sustainable development, by looking at what impact portfolio companies are having on water availability, as well as how water stewardship can be better championed by investors. Water access, biodiversity, and climate change itself are just the tip of the iceberg…
For compliance reasons, this paper is only accessible in certain geographies
In this piece, Manulife IM discusses the worrying fall in biodiversity, and the knock-on effect it is having on investors seeking to mitigate these risks. Impact on wildlife, from human activity, as well as overall global health and food systems, all funnel into a key area, for which the disruption can no longer go unnoticed: supply chains. Investors need the right systems to value and improve biodiversity… But what are they?
CREATE-Research and DWS Group partner up to provide this passive investing report which looks at the significant rise in ESG (environmental, social and governance) pillars, with particular focus on the 'S.' Here, they highlight the key drivers and obstacles which passive funds are paying particular attention to as concerns about concentration risk persistently challenge pension portfolio growth aspects. If the world aims to 'build back better,' then social factors need better understanding.
For compliance reasons, this paper is only accessible in certain geographies
As Aviva Investors points out, the climate crisis must remain 'front-of-mind'. While the world frees itself from the grips of Covid-19, the new normal must not forget to keep its attention on the transition to low-carbon emissions, or even its net zero pledge. However, challenges still exist, making the path to net zero a continued fantasy, rather than an instant reality. How do we build back better? How do we get to a sustainable world?
In this paper, Man Group puts great emphasis on the importance of accurate climate modelling, teasing climate-based scenarios which affect the efficacy of climate-based solutions. Data-driven modelling is one of the more prominent focal points being used to determine the best 'emissions pathway'; a strategy that's influencing climate scientists into greater climate analysis. Or better yet, a strategy that is influencing climate regulation and science-based targets.
For compliance reasons, this paper is only accessible in the United States and Canada
BlackRock describes the practical complications that will affect the multi-asset space as the transition to net zero drives further forward. Carbon metrics, portfolio pathways and ESG strategy implementation are some of the key aspects highlighted in this paper, allowing investors to better assess the likelihood of achieving those 'decarbonisation milestones'. As ESG considerations become heavily integrated into the investment process, rebalancing investor portfolios will be a key priority.
DOWNLOAD THE AWARDS MAGAZINE
View all Award category winners and read the latest news from Savvy Investor directly from CEO Andrew Perrins in the 2021 Awards Magazine. Download now!
ABOUT THE SAVVY INVESTOR AWARDS
The Savvy Investor Awards celebrate the best content from across the global institutional investment industry. We present awards across 10 different categories including the best overall paper.
Every year our Content Team handpicks and uploads over 10,000 articles and papers to the Savvy Investor platform. This library, alongside engagement data from 57,000+ members, means our judges are well-placed to identify and assess the award-worthy papers of 2021. The Awards are judged on many elements including the depth, quality, readability, and of course, appeal and relevance to our institutional investor audience. In a world saturated with content, and where it's difficult to cut through the noise, it is a great pleasure to highlight quality, cutting edge, and deeply engaging thought leadership for the investment community.
As the leading content hub for institutional investors, the Savvy Investor Awards were designed to help to affirm or establish authors and firms as true thought leaders within the industry.
PARTNER WITH SAVVY INVESTOR
To find out how you can partner with Savvy Investor to enhance your thought leadership credentials in the institutional investor marketplace, please contact our Head of Partner Sales, Stuart Blake, stuart.blake@savvyinvestor.net.
DIGITAL ASSETS FOR AWARD WINNERS (INCLUDING HIGHLY COMMENDED)
Savvy Investor has created digital assets (award banners and links) for you to publicise your award in social media, blogs, emails, newsletters and on your website. To receive your digital assets, please email business@savvyinvestor.net.